Ford and GM Make Strides in Reliability Ratings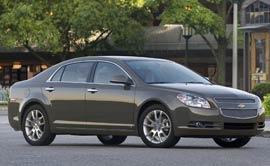 Based on a new study, Consumer Reports says both Ford and GM have made "real progress" in reliability ratings, although Chrysler did not receive similar good news.
According to the analysis, which drew upon both consumer surveys and vehicle testing, Ford offers several cars that match the ratings of foreign rivals like Toyota and Honda. Ford, the report said, is "in front of the class." GM made gains as well, although several of its vehicles continue to have reliability problems.
Some of the winners include the Ford Fusion, Mercury Milan, Lincoln MKZ, Cadillac DTS, Ford Taurus, Ford Taurus X and Mercury Sable. The Ford Taurus is being redesigned for 2010, and the Mercury Sable and Taurus X are being discontinued.
GM has a big reason to be happy, too: The Chevrolet Malibu LTZ ranked as the best American car.
The study designates better designs and improved quality as the foremost reasons for the improvement over past years, but it also cites "forward-thinking leadership," which may come as a surprise to some after watching Detroit's leadership maligned by the press, government and consumers alike.
Chrysler, on the other hand, continues to lag, with a lineup that Consumer Reports called "very disappointing with little promise on the horizon."
GM, Ford Gain in Reliability (Detroit News)