Ford Fusion Hybrid Gets $3,400 Tax Credit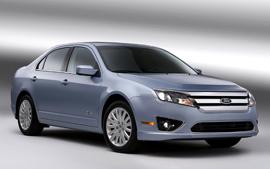 Word's come from the government that the new 2010 Ford Fusion Hybrid and Mercury Milan Hybrid are eligible for a $3,400 tax credit. Ford says this is the biggest federal tax credit a hybrid has received since 2005.
The Fusion and Milan hybrids were unveiled at the 2008 L.A. auto show. The Fusion Hybrid has an EPA rating of 41 mpg in the city and 36 mph on the highway. The Milan hasn't been tested, but the two are mechanically identical.
That makes the Fusion Hybrid the most fuel-efficient domestic vehicle and the third most efficient overall, behind the 2010 Toyota Prius and Honda Insight.
With an asking price of $27,270 for the Fusion Hybrid, Ford's tacked a hefty premium on the fuel-sipper, especially compared with the naturally aspirated four-cylinder version, which starts at $19,270. This tax credit should go a long way toward alleviating any potential buyer's remorse.
Is there a catch to the tax credits? Of course! The tantalizing $3,400 credit will be cut in half on April 1.
Being the largest domestic maker of hybrids, Ford has already reached the government's threshold of 60,000 vehicles for tax credit eligibility. If you recall, Toyota went through the same thing with the Prius.
The credit will be cut in half after March 2009, and then in half again on October 1. On April 1, 2010, the automaker won't get any more tax credits. So if you're dying to get a new Fusion Hybrid, you should probably act sooner rather than later. However, the company hasn't set a firm date for when the 2010 Fusion will go on sale, only saying it will happen in the spring. Which to us begins in March.
Ford's tax credits:
2010 Fusion Hybrid: $3,400 (Now-March 31); $1,700 (April 1-Sept. 30)
2010 Milan Hybrid: $3,400 (Now-March 31); $1,700 (April 1-Sept. 30)
2009 Escape Hybrid FWD: $3,000 (Now-March 31); $1,500 (April 1-Sept. 30)
2009 Escape Hybrid AWD: $1,950 (Now-March 31); $975 (April 1-Sept. 30)
2009 Mariner Hybrid FWD: $3,000 (Now-March 31); $1,500 (April 1-Sept. 30)
2009 Mariner Hybrid AWD: $1,950 (Now-March 31); $975 (April 1-Sept. 30)