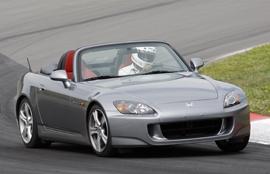 Today, Honda announced that its much-revered but slow-selling S2000 is now in its final year of production.
The S2000 was originally envisioned as a tribute to Honda's 50th anniversary — way back in 1999 — but the roadster ended up not just building an enthusiast following, it also sold well.
For most of its life, the S2000 was in short supply, though sales were down more than 40% in 2008. Part of that slide — aside from the recession and the car's $34,995 price tag — may be attributed to the fact that it hadn't gotten a complete redesign in nearly a decade.
Overall, the automaker sold 110,000 S2000s worldwide — 65,000 in the States alone. In 2008, Honda sold 2,538 S2000 convertibles in the U.S., while GM sold 10,739 of its Pontiac Solstice roadsters, a cheaper alternative which itself saw sales fall nearly 30% from 2007.
The S2000 has won many awards throughout its run, including four appearances on Car and Driver magazine's "10 Best" list.
Honda is now 60 years old, and its lineup will soon be a little less exciting; the automaker has no replacement convertible or performance vehicle planned.
So here's to you, S2000: You may be old and dying, but you still hold a special place in the hearts and minds of roadster fans.