Nissan to Unveil 370Z Convertible at New York Auto Show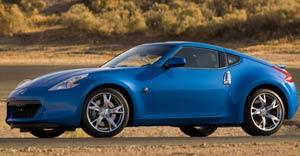 Nissan announced that it will debut its 2009 370Z convertible at the New York auto show, which begins April 8. A retractable hardtop was considered and disregarded due to space and weight constraints. The 370Z fills a niche for buyers looking for performance at a bargain price, and adding a hardtop would have meant both a lot more weight to carry and a higher price.
The convertible variant of the 370Z will have the same 3.7-liter V-6 as the coupe, and buyers can choose between manual and automatic transmissions. The convertible will come in base and Touring trims.
We'll let you know what we think of the 370Z convertible's design when we get an up-close look at it in New York.
2009 Nissan 370Z Convertible to Debut at New York Auto Show (Autoblog)