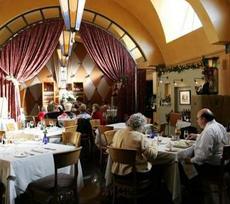 Tribute Restaurant — named one of the nation's best restaurants by the New York Times, Gourmet and Zagat — will discount meals by 50% to owners of domestic cars this week. The French restaurant in Farmington Hills, Mich., is offering a unique "tribute" to the industry that has brought in a lot of business diners over the years.
Through Saturday, Ford owners, employees and customers – including suppliers — will get 50% off their dinner or Sunday brunch. The week after that, GM loyalists will get the same deal, and the following week will be Chrysler's turn. On the final week of the promotion — the week of Jan. 25 — all three will get the discount.
This is more fallout of a struggling economy in which both high-end restaurants and automakers are trying to entice customers to spend money. According to Frommer's, the price of a main course at Tribute ranges from $18-$39. The restaurant will ask to see car keys or the car's registration to apply the discount.
American Car Owners Get Discount At Restaurant (MSNBC)