Recall Alert: 2006-07 Toyota Yaris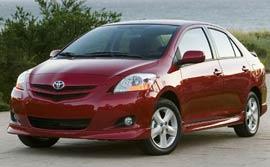 Toyota has issued a recall for 130,000 Toyota Yaris vehicles from the 2006 and 2007 model years. In a statement from Toyota, the automaker warned that the mechanism that tightens the seat belt strap expels a gas in the event of a "severe front-end collision." This gas could cause a nearby foam pad — used for sound insulation — to ignite and start a fire.
According to Toyota, this has not actually happened in the U.S., but the recall includes 1.3 million vehicles worldwide that are based on the same platform as the Yaris (on other shores, that would be the Vitz and the Ractis). They didn't comment on whether or not this phenomenon has been reported elsewhere.
Toyota is in the process of contacting owners by letter. Dealers will replace the defective mechanism free of charge. For more information, contact Toyota at 888-270-9371 or the National Highway Traffic Safety Administration hotline at 888-327-4236.
Toyota Recalls 130,000 US Yaris Cars, 1.3M Total (Forbes)