Test Green Cars on Detroit Auto Show's Indoor Track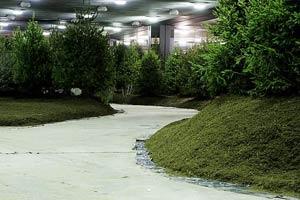 The Detroit auto show will help spotlight the latest in automakers' green technology by featuring an indoor track that winds through an artificial forest. The EcoXperience track is an eighth of a mile long and will wind through trees, waterfalls and ponds. The track will be open for both the media and the public to test the latest hybrid, plug-in and fuel-cell vehicles (with a professional driver in the passenger seat, of course).
Sponsored by the Michigan Economic Development Corp., the space for the track opened up when several automakers dropped out of the show. Nissan, Mitsubishi, Ferrari and others declined to attend, leaving the show's organizers roughly 70,000 square feet to fill.
The track gives automakers a chance to give their low-emission or zero-emission vehicles a higher profile at a time when all the talk is about the future of more fuel-efficient automotive technology.
The track will be open to the public during the show's public days Jan. 17-25, while our editors will get a crack at it during the press days, beginning Sunday.
Take a Test Ride — Inside: 'Green' Cars Will Go for a Spin in Basement Forest (Detroit News)