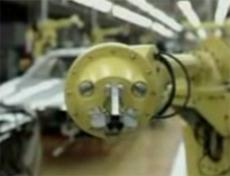 With our favorite Super Bowl car commercials of the 21st century in the books, it's time to look at the commercials that didn't do quite as good a job of winning us over. If you've forgotten these truly awful ads, we're sorry to remind you of them.
No. 10: VW Turbo Explained by Prom-Goers, 2002
Here's one where the idea is great but the execution is awful. You never even see the car they're talking about! Wha?!
---
No. 9: GM Suicidal Robot, 2007
This long ad was one of the biggest flops of the entire year for Super Bowl ads. People found it so confusing and depressing that GM had to alter the ending. Congrats, GM!
---
No. 8: BMW X5 People Jumping into Water, 2000 [Video can be viewed here]
You know what makes me think about a luxury SUV? Jumping off a cliff in the woods into what looks like some very cold water below. Yeah. That has a lot to do with a $50,000 BMW. A Whole Foods run might not have been as exciting, but at least it would have made sense.
---