Toyota Considers Bringing IQ City Car to U.S.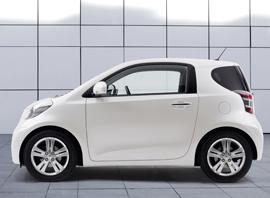 Toyota recently confirmed that it is strongly considering introducing its IQ city car to the United States.
The Japanese automaker introduced the vehicle on its own turf last year and has been carefully watching vehicles like the Smart ForTwo to see if there's a niche for a Toyota-branded urban commuter in the U.S. The IQ is a three-seater that matches up in size with the ForTwo, which has been selling just fine since its debut here.
Smaller than the Yaris, the IQ would be targeted toward urban areas where a small, fuel-efficient vehicle would help with gas and parking. Toyota declined to reveal when it might introduce the car, only that it is considering importing it.
Toyota Might Just Bring its IQ Microcar to U.S. (Detroit Free Press)