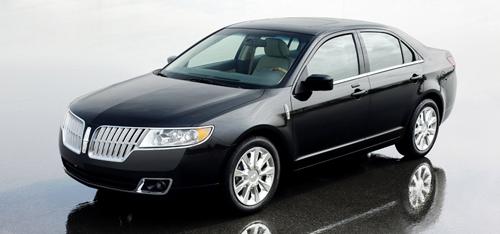 Last year, Lincoln debuted an all-new sedan called the MKS. It was a leap forward for the company in terms of interior and exterior styling. That left the smaller
MKZ sedan
waiting for a redesign, and now that it has its new look, price will be the deciding factor in whether it's a success. Today, Ford announced the 2010 Lincoln MKZ will start at $34,115 with front-wheel drive and $36,005 with all-wheel drive, not including an $850 destination charge.
The MKZ includes a 263-hp V-6 and comes standard with leather, Ford's Sync entertainment system, heated and cooled front seats, and parking sensors.
We're a bit surprised Ford would raise the price of the MKZ almost $1,500 without adding much extra content. The 2009 model started at $32,695, and at that price it couldn't compete with the likes of the Infiniti G37 ($33,250), Audi A4 ($31,000), Acura TL ($34,955) and Cadillac CTS ($36,560). We haven't driven the 2010 MKZ, but with such a high sticker it will be tough to get shoppers to put it on their test-drive list when there are so many other options out there. Some of the competition also come with things like a power moonroof standard, while that remains a $1,200 option on the MKZ.
The MKZ is also priced near the MKS, which starts at $38,490.
Check below for a list of options and pricing.
The MKZ has three "Quick Order Packages" that bundle a number of options, including:
Technology Package: $995
Navigation Package: $2,495
Ultimate Package: $5,995
Stand-alone options include:
Power moonroof: $,1,200
Sport Appearance Package with sport-tuned suspension: $795
Remote start: $345