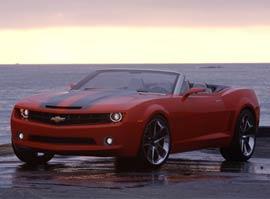 Last week, GM put the convertible version of the Chevrolet Camaro on hold. Originally slated for a mid-2010 release, the automaker now says we can expect the Camaro convertible to make its debut in early 2011, likely as a 2012 model.
This delay illustrates the problematic relationship between suppliers and automakers. The delay occurred because of slim operating capital in GM's coffers (a similar affliction at Chrysler led to the termination of the Dodge Challenger convertible), and because of problems with the German supplier of the Camaro's convertible tops. It was rumored that the company was on the verge of collapse, and that Chevrolet would have to look for a new supplier, but now the company appears to be solvent for the time being and will supply the tops.
Though GM says the Camaro convertible is back on, it's important to keep in mind how vital the supplier line is to the health of car companies everywhere. Members of the automotive supply chain are highly interwoven, and trouble in any company has ripple effects elsewhere.
Chevrolet Resolves its Camaro Convertible Problem (MotorTrend)