Cars.com Podcast No. 11: Camaro Talk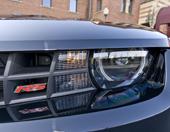 In this week's podcast, the Cars.com editors endlessly quiz Kelsey Mays about his time testing the new 2010 Chevy Camaro. Take a listen to hear the group — as giddy as schoolgirls — learn about the car straight from the lucky Mays. Oh, they also talk about the 2010 Mercury Milan Hybrid and BMW's new diesel version of its X5 SUV.
Download the podcast via iTunes here, or listen in a web browser here.