Massachusetts Considers 'Hummer Tax'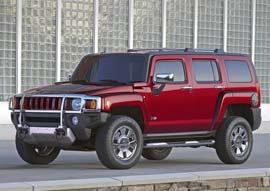 Massachusetts Gov. Deval Patrick is considering a tax on large, gas-guzzling SUVs to be paid when owners register their vehicles after a purchase. Widely known as the "Hummer Tax," the fee would go to pay for infrastructure, which Patrick says is suffering from a decade of neglect.
The tax, designed to encourage car buyers to purchase more fuel-efficient vehicles, will likely ruffle some feathers should it be enacted. Car sales are already dreadful, and a tax on any kind of vehicle as the industry struggles will be met with sturdy opposition. The law would be the first of its kind in the country.
Massachusetts lawmakers are already considering a 19-cent increase in the gas tax, which will surely be controversial. When you need to come up with $19 billion over the next 20 years to maintain and modernize your transportation system, you probably have to put some unpalatable options on the table.
Mass. Governor Considering 'Hummer Tax' on Gas Guzzlers (FoxNews.com via Autoblog)