Michigan Leads Research on Smart Bridges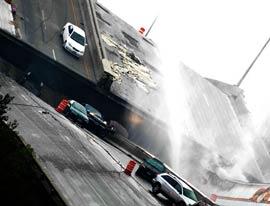 A team led by the University of Michigan is working to create an infrastructure-monitoring system for bridges that would prevent tragedies like the collapse of the I-35 bridge in Minneapolis. The $9 million project is funded by the National Institute of Standards and Technology Technology Innovation Program.
The engineers want to create smart bridges that can communicate with human inspectors and offer frequent updates on their health and stability. The program will choose several test bridges and install several different types of sensors, some measuring surface conditions and others penetrating into the bridges' inner workings.
The sensors will check for surface cracks, corrosion and the way different types of pressure affect the structure. For instance, no one measures the way heavy trucks affect bridges, but the team will outfit big rigs with sensors that will give researchers their first glimpse of the kind of strain large vehicles place on infrastructure. All the information will be relayed wirelessly on a daily basis and will allow inspectors real-time information. It's a method that might someday save lives.
Smart Bridges Under Development with New Federal Grant (University of Michigan)