Wisconsin May Drop Registration Stickers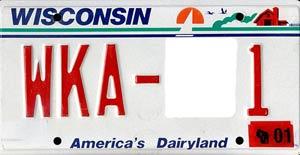 Wisconsin Gov. Jim Doyle has proposed eliminating vehicle registration stickers — you know, the ones the Department of Motor Vehicles sends yearly and motorists affix to their license plates. He also proposed reducing the number of license plates required on a vehicle to just one.
What gives, you wonder?
First of all, like many states, Wisconsin has a budget crunch, and doing away with the stickers would save the state $532,000 over two years in printing and distribution costs. Mandating only one license plate per car would save $795,000. Car owners would still have to pay registration fees, they just wouldn't get a sticker for their money.
Furthermore, while most law enforcement departments in the state oppose losing the sticker, the one police department that deals with a major metropolitan area — the Milwaukee PD — strongly supports it. That's because it has to deal with vehicle-sticker theft, which is more notorious in that city than either shoplifting or pick-pocketing. People steal the stickers, then attach them to unregistered or stolen cars. There were 4,951 reported thefts last year.
Doyle's Budget Would Eliminate Vehicle Registration Stickers (Milwaukee-Wisconsin Journal Sentinel)