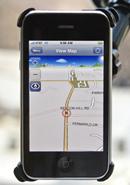 We just discovered the XROAD G-Map for iPhone application has been pulled from the iTunes App Store. No information has yet been given, other than a graphic on the XROAD website stating "G-Map U.S. East and West are being reviewed for improvement and will be back in the App Store soon." XROAD has not yet responded to emails or issued a press release with more details.
This is yet to be confirmed, but we believe this may have to do with yesterday's announcement allowing turn-by-turn navigation in the upcoming iPhone 3.0 release. Apple will allow use of Google Maps in third-party applications, and will allow real-time turn-by-turn navigation to those who use their own mapping platform.
We will keep you updated as we learn more.