2009 Nissan Murano: She Said, She Said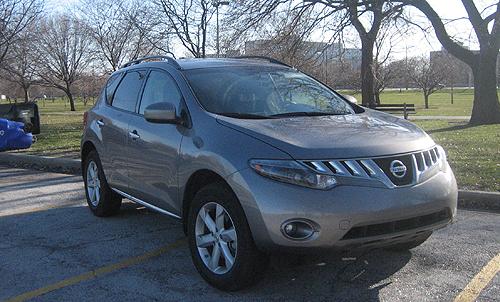 Nissan may have found two new advocates for its recently redesigned Murano. Beth and Amanda discuss living with it daily in the city and on a weekend road trip, along with their surprising love — or lack thereof — of the SUV/crossover segment as a whole. Yes, you read that right.
Beth: The Nissan Murano is great at what it does. It's a midsize crossover with five seats and a generous cargo area, just the right amount of power, a comfortable ride and enough amenities to be practical without crossing the line into indulgent. If I had a couple of small children, an interest in antiques or the need to make frequent home-improvement-store runs, I'm fairly sure I'd be head-over-heels in love with it. For a single girl who lives in the city, though, it just strikes me as too much car.
Amanda: I can always count on the two of us having opposing views on the SUVs we drive. I didn't think the Murano was too big at all. If anything, I was surprised by how much more compact it was from what I pictured. We often get cars I fall in love with (like the adorable Volvo C30), but that I can't ever see myself buying because they don't ultimately suit my needs or budget. The Murano, however, is a car I could actually picture myself buying whenever my '99 Ford Explorer calls it quits. I really don't have much to complain about with this car. And don't underestimate the fun that can be had at Home Depot on a Saturday morning!
Beth: Don't get me wrong; if I had somewhere to plant a garden I'd be totally on board with Michelle Obama and out shopping for seeds on the weekend, but I don't. I can't imagine needing anything bigger than, say, the Nissan Rogue in terms of my cargo needs. Plus, the Murano very nearly failed the bike-lane test on the street in front of my building (actually failing would mean it was so wide it took up space in that lane when nestled snuggly against the curb). That said, though, I totally get Amanda's love for this car. I took it on a weekend road trip and loved being able to throw our things in back without thinking about space-efficiency, not to mention the easy, comfortable drive the Murano provided en route to Michigan. What I didn't love, though, was the fact that the only input for my iPod not only didn't charge it, but was on the back of the center console. Not the most practical setup I've used.
Amanda: Well, I guess I don't technically need that much cargo room on an average day either, but that's never stopped me from owning an SUV before. Cargo area aside, I thought the interior was really well done — it appeared a lot more expensive than it was. And the continuously variable automatic transmission didn't seem to slow the car down when I was trying to merge, either. Like I said, I'm really struggling to find things to complain about with the Murano.
Beth: There are, however, plenty of things to rave about. I love that the SL we drove had mechanisms in the cargo area that automatically lowered and raised the rear seats from flat to upright and back, plus a power liftgate (part of a $1,900 Technology Package that also included Bluetooth — another favorite feature of mine). The power liftgate allowed me to simply press a button on the key fob to have the cargo area accessible to me once I got there, then press a button on the hatch to lower it when I was done — no straining to pull down a heavy hatch, and no messy hands from doing so. It's hard not to appreciate such practicality in a car — I just couldn't help thinking how much more I'd appreciate it if I had a stroller to stow and a kid on my hip.
2009|Nissan|Murnao