As NBA Season Ends, Players' Cars Catch Rides Home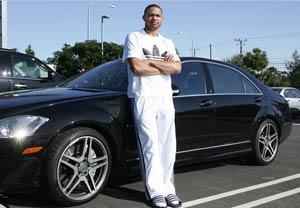 Professional athletes truly do face a different set of problems than the rest of us. For instance, how exactly does one transport a Bentley across the country without putting any miles on the odometer?
Keyon Dooling of the New Jersey Nets is just one example of this difficulty: He plans to ship four "family cars" from New Jersey to Florida.
Now that another NBA season has ended, players on teams who failed to make the playoffs are set to go home. Because many players don't live in the cities where they play, but still have an affinity for very, very expensive customized cars, they have companies ship the cars back home. And we assume they ship them right back before pre-season.
Exotic Car Transport in Orlando, Fla., reports shipping Bentleys, Cadillac Escalades and, in one case, a 30-foot stretch Range Rover by carrier truck. The cost of doing so can range from a few hundred to a few thousand dollars, depending on the vehicle and how far it's going.
Foreign players, for example, often purchase cars in the States, where the selection is better, then ship them home (to Slovenia in the case of the Sacramento Kings' Ben Udrih) through sports management agencies like Pinnacle Management, which makes the arrangements. International shipping instantly adds more than $1,000 to the price.
Then again, the average salary for a pro basketball player is $5 million.
If this level of car-pampering has you dismayed, take solace in Brook Lopez of the New Jersey Nets and his brother, Chris. The two of them will be road tripping it back to their home in California this summer.
N.B.A. Players Line Up a Ride for Their Rides (New York Times)