Car Buyer Q&A: 2009 Ford Flex Limited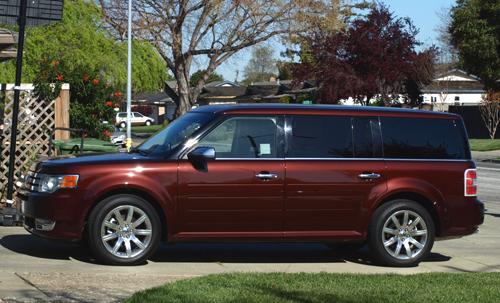 I was reading one of my favorite blogs — GeekDad — the other day and saw a post by the editor talking about the new car he'd just bought, which has Ford's Sync system, and how he was testing it out. Of course, being all geek-focused, editor Ken Denmead didn't even mention which Ford he had just bought. I contacted him and asked if he wanted to share his experience. The 40-year-old father of two from Fremont, Calif., was happy to oblige.
KickingTires: Why did you decide to buy a car in this down economy? Needed a replacement? Needed to upsize?
Ken: My wife's car — an '02 Saturn Vue, which was her commute car and the de facto family car — had suffered through the first seven years of both our boys' lives, plus acted as transportation for two dogs who steadfastly refused to stay behind any kind of pet barrier. With 110K miles and an interior that looked like the inside of a concert hall after a Gallagher show, it was no longer in a respectable state. We came into a little surprise money at the right time and went looking for deals.
KickingTires: How did you go about your research process? Did you use online sites? Read reviews? Ask other owners? Or did you walk into a dealer cold?
Ken: It started with internet research. Our primary criteria was having enough space in the back so we could carry the dogs in travel kennels and still have room for a couple suitcases, without making the boys hold stuff on their laps in the second row. The apparent choices came down to minivans (blah) or the larger SUVs (terrible mileage). But then we saw the Flex, which is billed as a "crossover" vehicle. Besides having tons of room in the back (more than any other crossover, and even more than most minivans), it has a cool aesthetic and gets reasonable mileage (18-22 mpg — only about 10% less than what we were getting with the Vue). We did our due diligence and checked out the minivans on our list, but after we saw and sat in the Flex, we were sold.
KickingTires: Why did you decide on this brand and model over the competition? What won you over?
Ken: A combination of style, and the fit and finish. We looked at minivans from Dodge, Chrysler, Toyota, Nissan and so forth, and they are all solid vehicles, but the Flex comes across as a luxury car, with luxury touches everywhere. The leather seats are fitted in such a way that sitting on them doesn't cause any stress to the material. Doors close over the siderails to prevent outside dirt from tracking in easily. And some of the little fun features are a gas: The vista roof reminds me of the Mini (which is my commute car), and the ambient lighting is silly but totally enjoyable. The boys compete for the chance to choose the color.
KickingTires: What was the purchasing process like? How long did it take from deciding on the car to walking out the door with the paperwork signed and keys in hand?
Ken: On the day we decided to go out with a mind toward finally buying, we saw one available at our local dealer via the internet. When we got there, we hooked up with the internet sales manager and found out that the one we liked had been a dealer demo, so we could get a little better price on it as well, since it had a couple thousand miles on it.
We had to leave for a Little League game, but left him with a credit application to make sure that we would clear for all the special deals going on as well — it's a pretty good time to buy a car, if you can swing it, what with cash-back incentives and very attractive financing deals. We came back late, saw the deal they were offering, made one counter-offer, which they accepted, and drove away that night.
Total time at the dealer, perhaps 3.5 hours. I think doing research beforehand is key in these situations. You can go to dealers to browse cars if you don't know what you like, but never go to buy without knowing exactly what you want, what the available deals are and with the steely resolve to resist the upsells.
KickingTires: What could have been better about buying the car?
Ken: There was one feature that we really wanted that the car we picked didn't have already installed. We have to wait for them to order and receive the parts, and then take the car back in to have them installed. Also, they couldn't find the second key the evening we bought it.
KickingTires: Finally, how do you like the car so far? Any buyer's remorse?
Ken: We're still on our honeymoon with the Ford Flex. My wife drives it to work, but when she meets me at Little League practice after work I get to drive it home. And being a geek, I'm diving into the gadgets with both feet, learning the Microsoft Sync system, the Sirius radio, and the in-car hard drive for music files. I think Ford would be smart to make the hard drive easily swappable. They'd make a lot more sales with the geek community if we could move all our media files onto a larger hard drive at home, and then just plop it into the car for a long journey. 10GB just doesn't cut it for some people!
If you had an interesting new-car buying experience recently, send us a short note at tips@cars.com with Q&A in the subject line.