Ford Offering $1,000 Conquest Cash to Chrysler Owners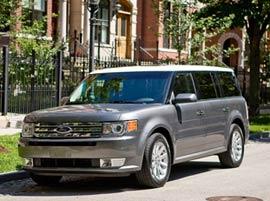 Conquest incentives aren't new in the automotive industry. In fact, they're often seen as very effective. Besides helping make a sale, they also help steal market share from a competitor. In the latest example of such an incentive, Ford dealers in the New York region are offering $1,000 in conquest cash to all Chrysler, Jeep and Dodge owners looking to buy a Ford, Lincoln or Mercury SUV, truck or crossover, but not car.
These incentives are usually added on top of other cash-back or financing offers.
Detroit News columnist Daniel Howes sees this as a low blow by Ford — kicking its competitors while they're down, and perhaps even perpetuating bankruptcy fears among buyers.
We're not sure how any car shopper today wouldn't already be aware of the dire straits in which Chrysler and GM find themselves. We'll just say smart shoppers shouldn't pass up an extra incentive if they find a vehicle that fits them.
Update: Ford says this offer is available in the following regions: New York, Boston, Philadelphia, Washington D.C., Denver and Phoenix.
Ford banks on its rivals' misfortune (Detroit News)