March 2009: Top 10 Best-Selling Cars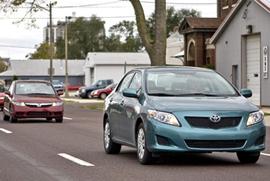 The usual suspects are back for March's list of the 10 best-selling cars, trucks and SUVs in America. The most significant mover is the Chevy Malibu, which moved from No. 10 to No. 9. The Honda Accord also moved up past the Toyota Corolla, but it's often that high on the list. March is typically the month when car sales ramp up for the calendar year.
While overall sales were down for most manufacturers, losses weren't as bad as they were in February. GM was down 45% in March 2009 versus March 2008, but that's better than the 52% decline it saw in February 2009 versus February 2008. The same can be said for Ford, Chrysler, BMW, Toyota and Honda. Nissan did see a slightly worse sales decline in March, down 37.7% versus March 2008 compared to a 37.1% dip between February 2008 and 2009 sales.
The top 10 vehicles list is below.
Ford F-Series: 32,728
Toyota Camry: 25,783
Chevy Silverado: 23,508
Honda Accord: 22,722
Toyota Corolla: 22,257
Honda Civic: 20,645
Nissan Altima: 19,521
Dodge Ram: 19,328
Chevy Malibu: 14,772
Honda CR-V: 12,959