Weekend Athlete: 2009 Ford Edge Sport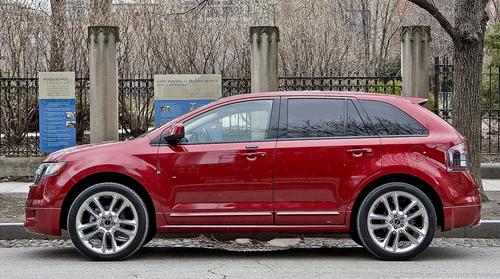 I already tested the Ford Edge once, but I decided to give it another look considering it was 10 below zero the first time and I remember thinking how much I enjoyed things like spring-loaded rear seats, a power hatch and anything else that let me load the Edge quickly in inhospitable weather. I wondered then if I'd like those features as much when things were less Hoth-like.
Yes and no is the short answer.
The power-opening rear hatch was, once again, handy, but it wasn't an "oh, I have to have that" kind of feature. I think that's less a statement about the actual utility of the Ford and more a realization of how rarely it gets below zero in April anymore. I will say that one of the nicest things with the Ford system is that the power-hatch control is in an easy-to-use location whether you're short or tall.
This time around, I liked the spring-loaded rear seats even more than I did the first time. I had to alternate between ferrying a sick bike to the shop, carrying people, carrying groceries and bringing the bike home, which meant I was flopping and folding the seats quite a bit. Pressing a button to fold them down is a major convenience. The Mazda CX-7 and a few other SUVs this size have similar switches.
What's even better is that Ford managed to place the rear seat belts in such a way that when you push the seatback upright, the seat belt doesn't get caught between the side of the seat and the side of the car. That's a rarity, and for that someone at Ford (and any other automaker that designs their seats this way) deserves a medal.
An interesting difference this time around was we had a Sport model. Like you, I assumed "Sport" would mean, you know, good at sports, or helpful for doing sports. I'm thinking of interior bike holders, a container for wetsuits, an interior ski rack, storage for both kick and glide waxes. You know — typical stuff we all use.
Sadly, "Sport" meant revised suspension for better handling, some bodywork and 22-inch wheels (sigh). You can find more on those differences in my full review of the Sport here.
However, for the Weekend Athlete crowd I can say that whoever decided a crossover needed 22-inch rims does not deserve a medal. My problem isn't that the wheels make the Edge Sport's ride rougher or that they make the Edge look bad — which they do — it's just that they're easier to damage by either hitting a pothole or striking a curb when parallel parking. Nobody needs to be spending money replacing SUV rims when they could be using it on more important things. Like fixing bent bike rims.
All in all, I think after testing the Edge again it maintains its score of 8.5 assuming you don't go for the large rims. The things that hurt it the first time — its price and a slight blind spot —remain, and its positives retain their favor in this Weekend Athlete's eyes.
2009|Ford|Edge