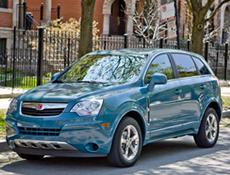 Saturn accounts for a quarter of GM's hybrid sales, so when that brand goes away later this year, there go all those fuel-efficient vehicles the Obama administration wants to promote.
Vehicles like the Saturn Vue Hybrid and Aura Hybrid will be no more, and because Saturn sells the second most hybrids for GM (behind Chevrolet), they'll have to be replaced with other fuel-efficient vehicles in order for GM to meet increased CAFE standards. In 2008, Saturn accounted for 3,205 of GM's 11,454 hybrid vehicle sales, according to the National Renewable Energy Laboratory.
The hit to GM's CAFE average will be partially mitigated by the shuttering of Hummer and Pontiac, but sources told Automotive News that Saturn's hybrid technology will still likely need to be used in cars from the remaining brands. That's because hybrid versions of the Chevy Malibu and Silverado and the GMC Sierra Hybrid probably won't cut it when it comes to CAFE, and the much-hyped Chevy Volt will make up only a negligible portion of the market when it's released.
This likely means the introduction of new fuel-efficient models down the line, but how soon that happens will depend on how well GM can get its house in order.
When Saturn Goes, So Does a Quarter of GM's Hybrid Sales (Automotive News)