AAA Predicts Jump in Summer Driving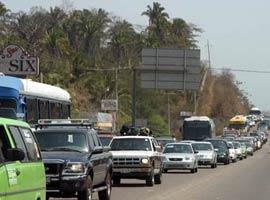 We've written several posts in the past year about how driving in the U.S. has fallen, mostly due to the sick economy. Now, AAA predicts those numbers will surge over Memorial Day weekend. After conducting a survey of 2,700 households, the auto club expects Memorial Day travel to increase 1.5% over last year.
That's based on how many people it expects to travel 50 miles or more from their homes, for a total of 32.4 million vacationers (up from 31.9 million last year). Of those, 83% are expected to travel by car, for a total of about 27 million people planning to drive, compared with 26.3 million last year.
Of course, 2008 does not represent the norm, as gas prices were on their way to $4 per gallon by Memorial Day last year, and the recession had already begun. This year, AAA doesn't expect the national average for a gallon of gas to break $2.50 for Memorial Day. Given one in seven Americans works in the travel or hospitality industry, the increased holiday travel will likely give the economy a brief shot in the arm.
Driving to Increase, Predicts AAA (Wheels)