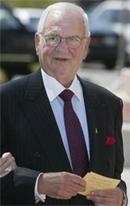 While you hear a lot about how the UAW's blue-collar, hourly employees are making concessions during Chrysler's restructuring bankruptcy, what you don't hear about is the impact on other employees. All of Chrysler's white-collar pensions could become insolvent if a bankruptcy judge approves a new Chrysler-Fiat company as early as today.
Famed Chrysler executive Lee Iacocca is one of nearly 20,000 non-union Chrysler retirees whose pensions are at risk of being completely emptied. Iacocca, like other former Chrysler executives, also receives a Chrysler vehicle for life. Well, that benefit is definitely no longer in effect, and the company is repossessing the minivan and sedan Iacocca had been driving. Still, that perk is nowhere near as important as the pensions due all white-collar retirees. That obligation could fall on a government-funded pension agency that could immediately be overwhelmed by Chrysler and GM obligations.
Also taking a hit are the 233 Chrysler employees currently on disability who get no benefits during bankruptcy. Company spokesmen say that when the new Chrysler emerges it will reinstate the disability payments, but when exactly that will be is unclear.
Iacocca losing pension, car in Chrysler bankruptcy (Reuters)
Disabled Chrysler workers wait for benefits (Oakland Press)