First Customer Receives Mini E Plug-In Electric Car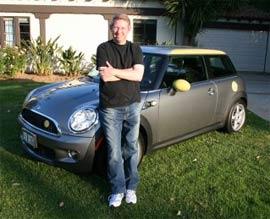 Peter Trepp, a venture capitalist from Pacific Palisades in Los Angeles, became the first customer to get his hands on one of 500 Mini E plug-in electric vehicles being leased by BMW.
For roughly $850 a month, Trepp will be one of the chosen few who will act as real-world test subjects to see how the all-electric car handles in the real world. The E has a 600-pound lithium-ion battery, but no supplemental gas engine like the Chevy Volt. Its range ends after 156 miles.
Still, this is no problem for Trepp, who uses the vehicle mostly for his 15-mile roundtrip commute to Santa Monica. Trepp reports on his blog that he and his wife both want the keys, and that his neighbors have taken a great deal of interest in the car.
Trepp had a 240-volt outlet installed in his garage, and started his blog in order to entice BMW into choosing him for the E's experimental lease. So far, he has been most surprised by the E's acceleration, which — despite the vehicle's dashboard "power meter" that shows drivers how to optimize energy use — has caused him to acquire a bit of a lead foot.
In case you're interested, here is another blog from a Mini E owner.
Meet the First Customer for BMW's Mini E Plug-in Electric Car (OpenRoad)