GM Adds Zune Support to New Models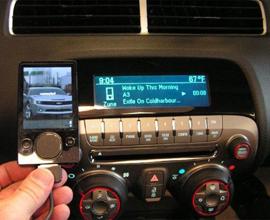 A popular blog dedicated to Microsoft's Zune MP3 player reports that the new 2010 Chevy Camaro has built-in Zune support, along with support for iPods and other popular players. According to the report, Zune-supported USB connectivity will be offered in 27 upcoming models in the U.S. and globally. We assume it'll be built into newly designed vehicles like the GMC Terrain, Chevy Cruze and others.
If you're an excited Zune owner looking to buy a new Camaro, though, be warned: The USB adapter is available standard in only the top 2LT trim of V-6 models and the 2SS trim for V-8s. It's an option in the 1LT model, but not available at all in the LS or 1SS.
We're not sure why such a car doesn't have USB integration standard across the lineup, but it's not alone. Other automakers like Honda also only offer USB connectivity on top trim levels, and as of now Honda doesn't support the Zune at all.
Chevy Camaro evidently nabs Microsoft Zune support (Engadget)