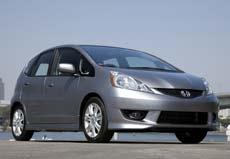 Japan's Nikkei business daily is reporting that Honda will roll out a hybrid version of its Fit subcompact in the fall of 2010. Presumably this would be in Japan, before a worldwide launch later on. The company has already said it will release a hybrid CR-Z sports car in 2010.
The move comes on the heels of a recent spike in demand for the new hybrid Insight in Japan. We're guessing the recent mileage enhancements for U.S. vehicles also helped Honda pull the trigger a bit early.
Reuters rightly notes that Nikkei doesn't name sources for some of its information, including a starting price of roughly $15,800 for the Fit Hybrid when it goes on sale in Japan. That's $3,000 less than what the Insight is selling for in Japan.
We can't imagine the Fit Hybrid going for that small an amount, and suggest that the report be taken with a grain of salt.
Honda to roll out hybrid Fit in autumn 2010: report (Reuters)
2009|Honda|Fit