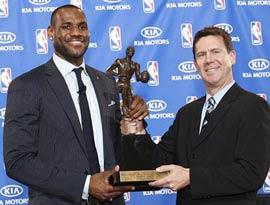 When Cleveland Cavaliers forward LeBron James won his first NBA Most Valuable Player award this season, he also won a free Kia Borrego. This is somewhat akin to the local Subway offering you free sandwiches for a month after being elected president of the United States.
Not to knock Kia, but its cars are more likely to be the vehicles of NBA fans than of NBA players, who are well known for their extravagant taste in cars. Perhaps that's why Kia, the sponsor of the award and an NBA partner, usually gives the vehicle directly to a charity of the award winner's choice.
Last year's MVP, Kobe Bryant, donated his brand-new Kia Borrego to the East L.A. Boys and Girls Club. This year's Defensive Player of the Year, Dwight Howard of the Orlando Magic, has already announced that his Kia will go to the Orlando Day Nursery. James will give his SUV to the Akron Urban League.
Even though Kia would certainly love to see James behind the wheel of a Borrego, giving the car directly to charity avoids headaches for sports agents because of possible conflicting endorsement deals. We'd also guess the Borrego would cramp his style a bit. James arrived at the MVP award ceremony driving a Ferrari amid a police escort. We assume this is his Ferrari 430 Spyder, which cost more than $200,000 before it was customized to fit the NBA player's tall frame. Check out the video of him taking delivery of it below.
NBA MVPs Don't Keep Cars (CNBC.com)