New York City to Experiment With Hybrid Cop Cars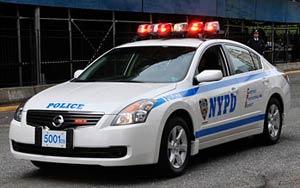 New York City Police Commissioner Raymond W. Kelly and Mayor Michael Bloomberg have announced that the city's police department will add 40 Nissan Altima Hybrids to its fleet. This is the first time the city will have used hybrids as patrol vehicles.
Twenty of the vehicles will be unmarked, two will be disguised as taxis in an anticrime fleet, and the rest will get the blue and white paint that's typical of patrol cars. That may not seem like much in a fleet of 3,000 patrol cars, but the 40 hybrids will serve as a pilot program. After a year, their performance will be evaluated to see if the city will add more.
At a cost of $25,391 per vehicle for the department, the Altima Hybrid – which is only sold in seven states – will cost the city about $1,500 more than a Ford Crown Victoria or Chevy Impala, the current patrol vehicles, but the department expects to make up the difference in fuel savings. With a top speed of 113 mph, the hybrids are also slower, but patrol vehicles are meant for the stop-and-go traffic of a city, not high-speed chases.
Of course, we expect comments on why New York City isn't buying American cars, but Mayor Bloomberg made special note that the Altima Hybrid is built in the U.S., while both the Crown Vic and the Impala are built in Canada.
In Green Test, Police Acquire Hybrid Patrol Cars (The New York Times)