Smart Offering Free ForTwo Transmission Upgrade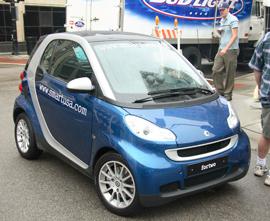 When the Smart ForTwo debuted in the U.S., Cars.com's Kelsey Mays wasn't alone in his disapproval of the car's shoddy transmission. Besides other journalists, consumers themselves didn't seem to like it, and the company took note. Now, Smart is sending letters to 24,622 of its 2008 ForTwo owners telling them they can bring their cars in for a transmission upgrade.
The upgrade is software-driven. One company spokesman described the problem with the old transmission as "a little hesitation between gears." Mays described it differently: "The transmission lurches through gear changes with the awkwardness of a 15-year-old learning stick on his brother's Corolla."
Mays also drove a 2009 ForTwo with the new transmission changes and said "it's noticeably improved, but it still has worlds to go."
Smart car offering to upgrade balky transmissions on 24,622 of last year's models (OpenRoad Blog)
2009|Smart|ForTwo
2008|Smart|ForTwo