Sync Upgrade Adds More Features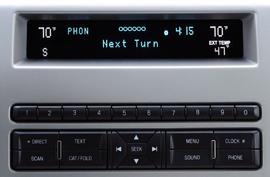 The new Ford Sync adds two very cool new features. In addition to controlling your entertainment options, the system will add audio traffic updates and voice-activated directions as you drive.
The traffic and navigation cues will come from voice commands rather than a screen with a map. In other words, you can ask Sync for directions. The service works with any Bluetooth compatible phone and also includes weather, stock and news reports (kind of like GM's OnStar).
The new Sync will be available via a downloadable upgrade to owners of the 2010 Ford Fusion and Mustang, Mercury Milan and Lincoln MKZ on the SyncMyRide website. Beginning in June, the upgraded Sync radios will come in the 2010 Ford Edge, Taurus and Super Duty pickup trucks. At that point, the new Sync will appear in almost all new Ford models as they debut.
The automaker also speculates that the next generation of Sync will improve the driving experience even further by using smart phones' internet capabilities to allow Pandora music to play through the car's stereo system. This will be the first of many web applications available through Sync, according to Ford.
New Sync Begins Rollout May 18 (Twice.com)