What a Chrysler-Fiat Lineup Might Look Like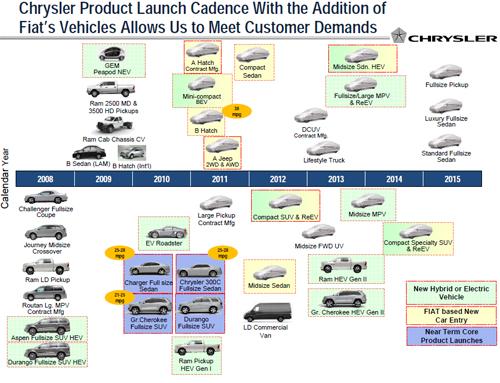 Included in the restructuring plan Chrysler announced in February were plans for new vehicles, many of which would be joint ventures with Fiat. Unlike GM, Chrysler has made no mention of what current products it will shed. The models Chrysler has announced future plans for include a 2011 Jeep Grand Cherokee, 2011 Chrysler 300, Dodge Charger and, yes, a new Dodge Durango full-size SUV.
That's all we know. But what might a Chrysler-Fiat lineup look like? All we can do is speculate, and that we have. What follows are our best guesses, using the restructuring plan's timetable and our knowledge of products that are underperforming now.
Chrysler
The Chrysler brand has the most issues and the fewest new products. It would likely get rid of the PT Cruiser in favor of a compact car or hatchback borrowed from Fiat, like the Bravo we mentioned earlier this week. The 300 will get redesigned as a 2011 model, but the underperforming Sebring could be shelved until the two companies figure out a substitute. Fiat doesn't have a product that fits American midsize tastes to compete with the Toyota Camry and Honda Accord. However, Fiat could provide efficient powertrains for a Chrysler-designed sedan; the company already had a new midsize sedan slated for 2012 as part of its restructuring plan.
Chrysler 500 (based on Fiat 500)
Chrysler Bravo (based on Fiat Bravo)
Chrysler 300
Chrysler Sebring
Chrysler Town & Country
Dodge
Dodge still sells a lot of cars and trucks, especially the Ram, which was redesigned last year. Expect any compact sedan from Fiat to also be picked up by Dodge to replace the poorly performing Caliber. An electric sports car has also been announced as a future Dodge product for 2010, though we're unsure how that makes sense in a time of economic distress. We fully expect the Dodge Nitro to be officially shelved.
Dodge Bravo Hatchback
Dodge Charger
Dodge Challenger
Dodge Dakota (to be replaced by "lifestyle truck" in 2013)
Dodge Durango
Dodge Grand Caravan
Dodge Journey (to be replaced in 2012 by Fiat product)
Jeep
Jeep is probably best able to shed a few lackluster products and revamp a few that need it, with or without Fiat's help. Look to see the current Liberty disappear like the Nitro, leaving a slimmer Jeep.
Jeep Patriot (to be replaced by Fiat-sourced compact)
Jeep Wrangler
Jeep Grand Cherokee