2010 Subaru Legacy Gets EPA Rating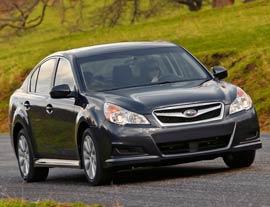 The 2010 Subaru Legacy will get more power, but also manages to increase its fuel economy with a new transmission. The EPA rated the 2010 Subaru Legacy 2.5i model with a continuously variable automatic transmission 23/31 mpg city/highway. That's a pretty significant improvement over the 2009 model's top rating of 20/27 mpg city/highway, which was for a four-cylinder manual.
Fuel economy with the six-speed manual decreases to 19/27, and if you opt for the more powerful 2.5 GT or the 3.6R with a five-speed automatic, the EPA rates mileage at 18/25 mpg.
The four-cylinder 2010 Legacy starts at $19,995, which is pretty impressive for an all-wheel-drive midsize sedan. The 2009 model started at $20,795. Even with Subaru's vaunted reliability and this low price, we wonder if the car's questionable looks will prevent buyers from putting it on their short list when shopping in the segment.