Chrysler Dealers Lose Franchise Agreements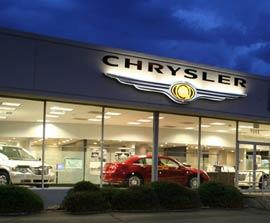 Is today judgment day for Chrysler? While Chrysler and Fiat officials wait to see what, if anything, the Supreme Court will do to their proposed deal, Fiat said that its plan to buy Chrysler is still on even though it can walk away from the deal if it isn't completed by mid-June.
"Fiat will not walk away from the deal if it isn't completed by the June 15 deadline," a spokesman for the Italian automaker said.
No matter what happens, though, judgment day has arrived for 789 Chrysler, Jeep and Dodge dealerships across the country.
That number represents 25% of the 3,189 Chrysler dealerships in the U.S. Those 789 will lose their franchise agreements today and therefore cannot offer Chrysler's national sales incentives. This makes it fairly difficult to sell cars in an already depressed market. Dealerships were targeted based on poor sales performance, close proximity to other Chrysler dealerships and not selling all three Chrysler brands.
Dealers — many of which are family-owned operations and some of which have been around for 20, 30, 40 years — pointed out in court that cutting dealerships will not save Chrysler. Dealerships cover most of their own costs, including salaries and advertising. Chrysler obviously begs to differ.
Still, how much blame does Chrysler deserve for the poor sales performance of its dealers? Peter J. Walsh, owner of Walsh Dodge in Jersey City, N.J., told the Associated Press that Chrysler pressured him to sell more pickup trucks — a poor choice of vehicle to hock in the stop-and-go sprawl of New Jersey.
"How many Dodge pickups can I sell in Jersey City?" Walsh said. "It's not Waco, Texas."
Many of the cut dealerships will carry on as used-car lots and service centers, but selling off the last of their inventory has been a painful experience.
"In essence, I paid people to take some of my cars," said Dale Horn, owner of a Chrysler dealership in Malvern, Ark. "It's just not a pleasant deal."
Chrysler Dealers Scramble to Unload Vehicles (Associated Press)