First Drive: 2010 Ford Transit Connect
The last time a peculiar, box-shaped car from overseas was sprung on the U.S. market, it was a surprise hit. Don't let the boxy styling and relatively minuscule four-cylinder fool you, though — this is no Scion xB. The 2010 Ford Transit Connect won't be seen at the high school parking lot with blacked-out headlights, a neon underglow and a coffee-can muffler — unless the vending machines are being restocked by a small-business owner with too much time on his hands. Normally Cars.com wouldn't bother with a model intended for commercial use, but there's a newfound interest in everything the domestic automakers do, and the Transit Connect also happens to be one of the first models Ford will offer as a pure battery-electric next year, so I gladly took one for a spin.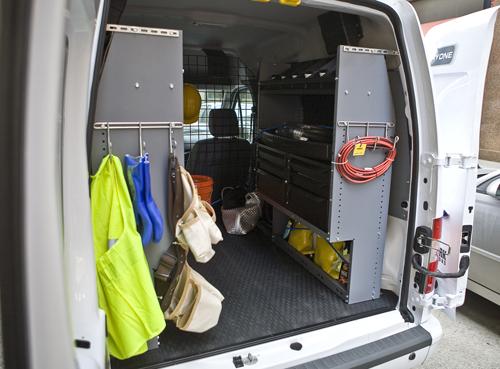 My box on wheels wasn't electric, though. The front wheels were powered by a 2.0-liter gas engine and four-speed automatic that were incorporated specifically for global small-business domination. (The more than a half-million Transit Connects sold overseas since 2003 have exclusively employed diesels and manual transmissions.) As you might imagine, the four-cylinder that's merely adequate as the base engine in Ford's compact Focus isn't going to set any land-speed records in a small van with the aerodynamics of a brick (and, given its intended use, the weight of a brick as well). My Transit Connect was outfitted (or "upfitted") for generic handyman use, but was practically empty aside from its two seats, wire partition and built-in racks bearing a number of props.
Acceleration is indeed modest, and I think drivers will react negatively to the transmission — not because it doesn't do the job, but because a four-speed always invokes more drama than a five- or six-speed when it downshifts to pass: high revving, noise and what people perceive as "straining." It's not straining. It's working. The Transit Connect's acceleration is fine. That said, once you add a full load and some hills, even I'm not sure I'd be too pleased with it. Beliefs to the contrary are nothing high gas prices couldn't cure. The EPA rating is 22/25 mpg — quite good for anyone who's accustomed to a minivan and outstanding for anyone who's used to a full-size van or a rear-drive minivan of a bygone era — ones with names like Aerostar, Astro and Safari. Dodge's current Grand Caravan, which can be had in a cargo version, gets 17/24 mpg with a V-6 engine.
Considering the platform's relation to the Focus — in the front where it matters most — a 2.5-liter engine option shouldn't be out of the question, but Ford is making no promises.
If you've only seen photos, the Transit Connect's shape makes you expect something larger. It is quite compact, and most of its space comes in the vertical dimension. The load floor is notably low and the roof is high, but only about 6 feet of cargo floor extends from the front seatbacks to the cargo doors. The seats have enough headroom for a Buckingham Palace guard in full headgear, but you won't be standing in there. Fortunately, the sliding side doors and rear doors let you reach almost every part of the cargo area without putting more than a knee down.
Even with a mostly empty truck, it was reasonably quiet as I drove and conversed with a Ford representative. Though my Transit Connect had no rear window or interior rearview mirror, the vehicle isn't very long, so visibility wasn't a problem. You sit relatively high and look out an expansive windshield. The side window sills are low to begin with, and they dip down near the front like in the F-Series pickup, granting the best view of the driver's side curb I think I've ever seen. All in all, the size, configuration and rear doors that open almost flush with the van's sides showed how a model like this could excel as a delivery truck in our own congested, downtown-Chicago locale.
As for consumer use, well, there's a "wagon" version that I didn't drive, which has five seats, but I can't imagine anyone buying it over some better-appointed small crossover or wagon. It's definitely a commercial vehicle. The Transit Connect is already arriving at dealerships that request it, and it should be available en masse by August, at a starting price of $21,475, including destination. I think it will do well enough. All Ford needs for it to truly excel are some terrible gas prices, and those seem inevitable -- some would say necessary.