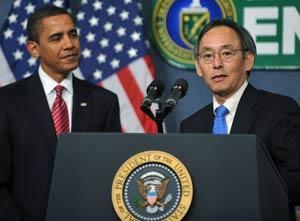 The Energy Department will loan money from a $25 billion retooling fund to Ford, Nissan and Tesla. The money is meant to help the automakers develop and produce cutting-edge green vehicles.
Energy Secretary Steven Chu will eventually decide how much each company will receive, but Ford has applied for $5 billion in loans by 2011, while Tesla wants $450 million. Nissan has announced it has been approved for a $1.6 billion loan.
Ford plans to invest $14 billion over seven years in developing advanced technologies, and will use the government loan to finance that effort.
Ford has said it will bring a battery-electric van to the market by 2010, a small electric sedan by 2011 and a plug-in electric vehicle by 2012. We previously reported on how Ford plans to convert a truck plant to build the electric Focus and what that will mean to Ford's lineup.
Meanwhile, Nissan will use its $1.6 billion loan to modify its manufacturing plant in Smyrna, Tenn., to produce zero-emission electric cars and lithium-ion battery packs. Nissan plans to begin production of that unnamed vehicle in 2012.
Tesla will use $350 million of its request to build an assembly plant for its Model S sedan, which it wants to bring to market by 2011. $100 million will also be used to finance an advanced battery- and powertrain-manufacturing facility.
Due to their bankruptcies, GM and Chrysler could not be approved for loans, but the pot of money set aside by Congress totals $25 billion, and it's very possible that those restructured companies will be granted money in the next round of loans.
AP Source: Ford, Nissan, Tesla to Get Government Loans (USA Today)