Higher-Mileage Trims on the Rise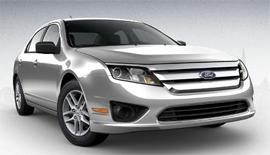 Call them super-saver cars. More than ever, automakers are offering specially branded, fuel-efficient trim levels, but buyers should beware: Those models may compromise performance, have fewer features or require spending a little more to get those mpg savings. In addition, they may be harder to find than their best-selling siblings.
Take, for example, the 2010 Ford Fusion. Its impressive 23/34 mpg city/highway EPA rating only applies to the automatic base model, the Fusion S. The midlevel SE and better-equipped SEL are rated at a lower 22/31 mpg with the same four-cylinder engine and automatic transmissions.
Why the difference in mileage? Ford spokesman Alan Hall said the Fusion S saves gas by using lower-resistance tires and specific transmission calibrations, and by being lighter because there's less equipment in that trim.
It's certainly not the only example. Honda's Odyssey minivan gets an extra 1-2 mpg with cylinder deactivation, but it's a feature offered only on more expensive trims. Chevrolet boasts a 33-mpg Malibu, but to get that you'll have to pony up for the six-speed automatic transmission.
Some brands even roll these alterations into high-efficiency trim levels. Last year, Ford marketed an SFE, or Superior Fuel Economy, version of its two-wheel-drive F-150 pickup. With specific axle-ratio tuning and low-resistance tires, it's rated at 21 mpg on the highway. GM offers XFE — or eXtra Fuel Economy — versions of several models that have similar modifications to squeeze out a few extra mpg.
"It's something that's relatively easier to do," independent auto analyst Erich Merkle said. "From a marketing perspective, why not? Put a different rear [axle], different tires, tweak the aerodynamics a bit," he said. "You promote it as its own model series. So it's not real costly to do it. It's pretty reasonable, from an economic perspective — certainly less costly than hybrids."
It's not a new trick -- Honda marketed high-efficiency trims for the Civic through several generations -- but it's on the upswing. For car shoppers, however, it can prove onerous, with ads touting high mpg ratings for cars that in reality can be difficult to come by. Case in point: Within 100 miles of our Chicago offices, just 10 of the 250-plus 2010 Fusions listed for sale on Cars.com were the Fusion S whose 34 mpg rating is much touted by Ford. Of the 1,188 new Chevy Cobalts for sale within 50 miles of our offices, only a dozen carried the 37-mpg XFE designation.
"The higher-contented model is generally the higher [buyer] mix," Hall said. "But, you know, once again there is a market for an entry-level car."
Why don't automakers institute those mileage changes across an entire model line? Because efficiency requires tradeoffs. More-efficient drivetrain tuning, from transmission gearing to final drive ratios, can take a toll on acceleration. Also, high-efficiency trims often exclude weight-adding options, like four-wheel drive.
James Smith, president of the Society of Automotive Engineers and an engineering professor at the University of West Virginia, explained.
"There's this tradeoff going on," he said. "If someone wants a vehicle that's peppy, and this vehicle is not peppy enough, they're not going to buy it. These manufacturers are trying to build vehicles that have a broad-spectrum appeal."
"Every time they make a change, some of which are strictly cosmetic, you got to go back and tweak all the stuff," Smith said. "It's not trivial. It's expensive; it takes time. And the question is, what's the vehicle used for?"
Merkle acknowledged similar drawbacks, but said he expects fewer trim-specific tweaks and more model-wide ones – for example, all four-cylinder Fusions getting 34 mpg — as government-mandated Corporate Average Fuel Economy standards push automakers to raise mileage across entire lineups. His concern, he said, is that when that happens buyers won't have a choice between higher-mileage or better-performing trims. In short, CAFE may sacrifice the broad appeal that Smith discussed.
"There are some limitations" with high-mileage trims, Merkle said. "It's not necessarily that you can have your cake and eat it too. You have to select one or the other. My concern is that with CAFE, the consumer may not necessarily have that choice."