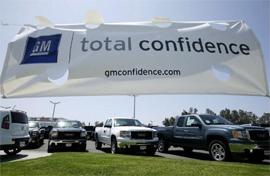 After filing for bankruptcy this morning, GM's future is a bit hazy. However, the company is stressing that the day-to-day operations that impact consumers will remain unchanged. The company has set up a website to alleviate these fears here.
We highlight a number of consumer concerns below.
Warranties
President Barack Obama again put the government on the firing line today in regard to backing new-car warranties. Any new GM vehicle purchased during the bankruptcy period will continue to be fully backed by the U.S. government. That means that even if the company fails, if you buy a new GM car or truck during this period, its full warranty will be supported by the government. If the company fails, the government will find a third party to cover warranty work.
Service
All service centers will operate normally during bankruptcy.
Resale value
There will likely be a hit to the resale value of GM products in the short term. Regarding dead brands like Pontiac and Saturn, resale values are likely to take an even larger hit. However, if the new GM is indeed smaller — with a tighter control of supply, as would be expected — the resale value of its cars should not be severely diminished. Especially if the bankruptcy period is as short as three months.

Will my dealer close?
The number of shuttering GM dealers over the next year or two has grown to more than 2,100. The company has not officially announced which dealers will close, but we already reported where you can find some announcements. Now that it's in bankruptcy, the company may be forced to publish all 2,100. It can also speed up their closings, like Chrysler did. GM says more information on dealer closings will be announced later this week.
The end result is that even if your dealer closes, you will still be able to get warranty and repair work done at a remaining store.
How good will deals be?
When Chrysler went into bankruptcy, the manufacturer's cash-back incentive figures actually decreased. Because many dealers were closing, however, they beefed up deals on their end. GM has significant cash-back deals that were scheduled to expire today, but details of future incentives have not been announced. We'd expect them to roll out later this week and to be on par with current deals. Don't expect major fire sales, except at shuttering dealers or on brands that are for sale, like Hummer, Saturn, Saab and Pontiac.
Of course, if GM closes other dealerships sooner, they could see sales similar to Chrysler's closing shops.
If you have questions about the GM bankruptcy, feel free to ask them below.