Mitsubishi i-MiEV goes on sale in Japan in July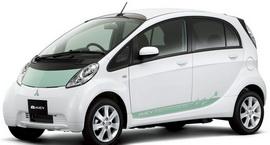 One of the first electric vehicles produced by a major automaker will start rolling off the assembly line in July -- but it won't be sold in the U.S. just yet.
Mitsubishi will start selling its electric vehicle, dubbed the i-MiEV, to Japanese corporations and the Japanese government in July. After that, it will sell the vehicle in the Japanese market by April 2010. The suggested retail price for the i-MiEV is $45,000.
The i-MiEV will have an electric range of 100 miles using lithium-ion batteries, and it will take seven to 14 hours to charge.
In April, Mitsubishi confirmed its intention to sell the i-MiEV in the U.S. sometime before 2012.
Subaru has also announced plans to build an EV for around the same price as the i-MiEV, and the American firm Coda Automotive launched an electric vehicle with a similar price and range earlier this week.
With an average price of $45,000, would you be willing to buy an electric vehicle that only has a 100-mile range?
Mitsubishi i-MiEV to Electrify Japan in July (Reuters)
Mitsubishi i MiEV Electric Car Coming to U.S. (KickingTires)