Fiat-Chrysler Deal: What it Means to You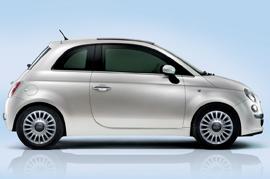 The Chrysler-Fiat deal is done. Today, the Italian automaker is the new owner of the majority of Chrysler's assets. This clears the way for Chrysler to emerge from bankruptcy, having shed nearly 800 dealerships as well as billions of dollars in debt and labor costs.
Fiat plans to reopen most of Chrysler's factories by the end of June. The factories were idled during the automaker's bankruptcy filing. The future looks a lot brighter for Chrysler, but what Fiat cars can we expect to see here in the coming years?
Fiat in the U.S.
Fiat's small cars will plug a gaping hole in Chrysler's lineup. However, it will take time to adapt Fiat's cars to meet U.S. emissions standards and safety requirements; Fiats were last sold in the U.S. in 1983. Some experts say we can expect to see Fiats here again by the end of 2010. According to published reports, here are the Fiat cars that are projected to come stateside.
• Fiat 500: This subcompact hatchback, which some suggest could be called the Chrysler 500, is 6 inches shorter than a Mini Cooper.
• Fiat Bravo: This small wagon, which looks like a Pontiac Vibe, could become the Chrysler Bravo.
• Fiat Panda: This popular European minicar features a hatchback and four-wheel drive.
• Alfa Romeo MiTo: This stylish two-door can be had with a turbocharged engine.
• Alfa Romeo 147: This hatchback is aimed at small families and could replace the Dodge Caliber.
Chrysler, Dodge and Jeep Lineups
Chrysler hasn't announced which cars will remain in its 2011 lineup, but a few weeks ago we made our best guesses about which cars will remain.
• Chrysler 300
• Chrysler Sebring
• Chrysler Town & Country
• Dodge Charger
• Dodge Challenger
• Dodge Dakota
• Dodge Durango
• Dodge Grand Caravan
• Dodge Journey
• Dodge Ram
• Jeep Grand Cherokee
• Jeep Patriot
• Jeep Wrangler