Nissan to Unveil New Electric Vehicle Aug. 2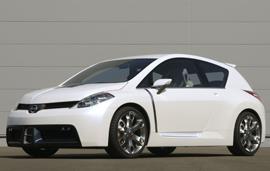 Nissan announced via Twitter earlier today that it would introduce its all-new electric vehicle at an event in Japan on Aug. 2. The EV will go on sale sometime in 2010 and is described as being able to "comfortably seat five people, drive on any American road or highway and have an initial range of 100 miles before recharging." The picture here is of last year's Nissan Sport Coupe concept, which would be our pick for a sporty EV if there ever was one.
The company had already announced plans to build the vehicle at a plant in Tennessee starting in late 2012 as a stipulation for receiving U.S. federal funds to help develop new green vehicles. Prior to that it will be built in Japan and exported to the U.S.