Penske Reaches Deal With GM to Buy Saturn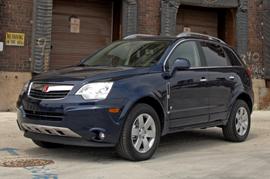 With Hummer sold off earlier this week, GM has now announced a tentative deal with Roger Penske for the businessman to buy its struggling Saturn brand.
According to Saturn, the deal would save more than 13,000 jobs and keep 350 Saturn dealerships from closing.
Under the deal, GM would continue to make Saturn products — like the Aura, Outlook and Vue — for Penske until 2011.
There's been no word on whether GM will continue to build the Sky or Astra. The assembly plant for the Sky is due to close this summer, and Saturn didn't release a 2009 Astra in the U.S.
After 2011, Penske reportedly plans to sell globally sourced vehicles; Automotive News is reporting that Penske will sell Renault Samsung vehicles built in South Korea at Saturn dealerships.
The tentative agreement saves Saturn and its customer-friendly dealers from an almost certain death. GM had previously announced that without a buyer it would close the brand down by the end of this year.
GM, Penske reach tentative deal for Saturn brand (Detroit Free Press)
Penske plan: Sell Samsung vehicles at Saturn stores (Cnet)