Saturn Vue Two-Mode Hybrid Rated at 28 MPG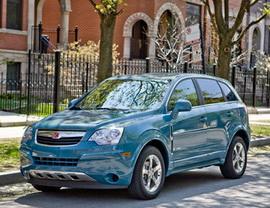 Remember the Saturn Vue Two-Mode Hybrid? If you don't, you'll never know it, as this Saturn Vue model will never go on sale.
The vehicle was so close to launch that the EPA even tested it: The Vue Two-Mode would have received a 27/30 mpg city/highway, 28 mpg combined rating. That means the ill-fated 255-hp hybrid crossover would have been more fuel-efficient than the 2009 Toyota Highlander Hybrid (though that model is larger and comes equipped with all-wheel drive), but less efficient than the 2009 Ford Escape Hybrid and 2010 Lexus RX 450h.
The Vue Two-Mode Hybrid was part of Saturn's aggressive hybrid strategy, which was intended to lead to a plug-in hybrid in 2010. The Vue Two-Mode Hybrid was equipped with a powerful V-6 engine and could accelerate from zero to 60 mph in 7.3 seconds and tow up to 3,500 pounds.
The model would have complemented the Vue Hybrid, which has a 172-hp four-cylinder powertrain and, interestingly enough, achieves the same combined EPA rating – 28 mpg – as its erstwhile Two-Mode sibling would have.
The Vue Two-Mode was supposed to be a 2009 model, going on sale in late 2008. Saturn even went so far as to put the vehicle up on its build configurator at the beginning of the year. Since then, the model has been taken off Saturn's consumer site, and there's no mention of it as a future model. The model never went into production at GM's Ramos Arizpe, Mexico, assembly plant where all Vues are built.
Now, with GM's recent bankruptcy, the automaker is actively looking for a buyer for Saturn, which could drastically change the brand's vehicle lineup.
The 2007 Saturn Vue was the first GM SUV to have a hybrid system. The Vue Two-Mode would have been the first front-wheel-drive implementation of GM's two-mode hybrid technology; as of now, the system is only used on full-size SUVs and trucks.
For 2010, Saturn had also planned to offer a plug-in version of the Vue, which would have allowed the vehicle to travel 10 miles on its electric motors only.
According to Motor Trend, GM has confirmed that the Vue's plug-in hybrid technology will be implemented on another model, from either Chevrolet, Buick, GMC or Cadillac.
GM Confirms Saturn Vue Plug-In Hybrid Tech Will Switch to Another Model (Motor Trend)
Saturn Vue News (KickingTires)