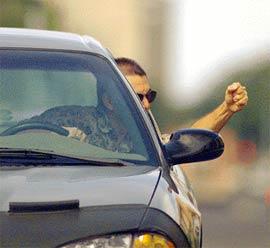 An AutoVantage survey asked drivers about the courteousness of their fellow road warriors, and New York came out on top for the city with the most road rage.
Um … shocking?
Perhaps not, but following on New York's heels were the sprawl-heavy commuter cities of Dallas and Atlanta, the industrial graveyard of Detroit, and the peculiar twins of Minneapolis and St. Paul to round it out.
Respondents cited aggressive speeding, horn-honking and anger issues as the prime road-rage indicators, while angry drivers pointed to drivers talking on cell phones, tailgating, eating and, yes, emailing as poor behaviors that set them off.
So what's an Atlanta driver to do? Well, you could always move.
The survey found that Portland (Oregon), Cleveland, Baltimore, Sacramento and Pittsburgh were the cities with the most courteous drivers.
That move may be worth it: A full 7% admitted that they call the police in response to rude driving behavior, while 1% confessed they slam the offending car.
Study: Where Does Your City Rank Among the Road-Rageous? (Autoblog)