Through Ian's Lens: 2009 Pontiac Solstice Coupe GXP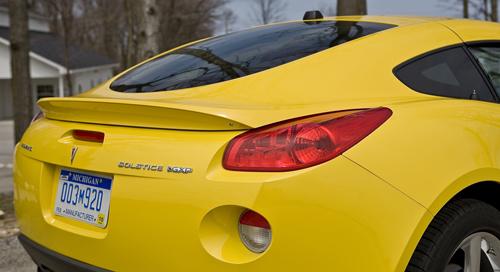 In the wake of General Motors filing for bankruptcy, I would like to take a moment of silence to honor the short life of the 2009 Pontiac Solstice GXP coupe (pause). Now that the moment has passed, I would like to remember the Solstice coupe as one of the prettiest cars I've seen come off a General Motors assembly line in the past five years. This little two-door will only be produced in a small run this year, then will disappear forever as Pontiac closes its doors.
As for the design of this coupe, the swooping hatch reminds me of a crossbreed between Corvettes and Porsches of yore, while even the nose harks back a bit to the British two-seaters of yesteryear. If that's not enough for you to take a second look, the only production model we could find in the flesh to shoot was painted in a racing yellow, which, well, left a lot to be desired. Why can't more fleet cars be black? I'd even take gunmetal gray ...
I honestly wish I'd had a chance to drive it. But, alas, we will never see the likes of it again. Adieu, little buddy, adieu.