Volkswagen Will Stick With Hydrogen Fuel-Cell Development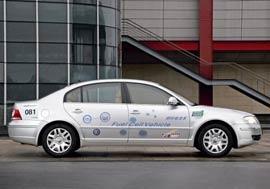 After the Obama administration cut funding for hydrogen fuel-cell research from the Department of Energy's budget, the fuel-cell vehicle had a major setback.
This hasn't deterred Volkswagen from pursuing hydrogen cars, though, and it showed off its fuel-cell Ling Yu Passat in California to prove it. VW makes clear that it knows full well Americans won't be filling up with hydrogen any time soon, but says it sees fuel cells as a solution in the making, even if they're far from production-ready.
Its "Future Mobility Roadmap" first outlines a switch to hybrids and electric vehicles, long before hydrogen-powered cars. Like Honda, Mazda, Mercedes-Benz and BMW, VW doesn't want to only pursue the electric route, but as most of the scientific community has stressed, fuel cells just don't make sense right now.
Building the infrastructure to support a fleet of hydrogen vehicles has proved a prohibitive expense (not to mention issues of fuel transport and the cost to manufacture the vehicles). Still, Volkswagen will continue to develop the technology and look for ways around all the daunting challenges.
VW Still Devoted to Hydrogen (Autopia)