2010 Acura RDX Gets New Grille, Price, Front-Wheel Drive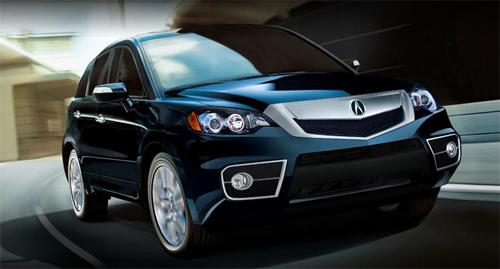 Acura's new company face, a big shield fixed into the grille, has landed on the RDX for 2010. It was the last model in the lineup to get it, and we have to say, it could have been left alone. Other design tweaks to the lower bumper and headlights are more welcome and add a beefier look overall. The backside gets some work, too, but it's harder to see the changes there. The dual exhaust pipes are now hexagonal instead of circular, and the license plate frame is slightly smaller.
Inside, hardly anything gets touched, and the engine is the same 240-hp, turbocharged four-cylinder. The biggest changes come in terms of trim levels. The RDX now comes in a base, front-wheel-drive model in addition to the previous all-wheel-drive version. There are technology packages available for both. Pricing for the front-wheel-drive model is $32,520, with all-wheel drive starting at $34,520. The 2009 RDX with all-wheel drive started at $33,895. What do you get for the extra $600 and change besides the new grille?
Basically, the base models still come with leather, a moonroof, dual climate control and Bluetooth. The standard seven-speaker stereo system now comes with iPod integration and a USB adapter.
Gas mileage remains the same for the all-wheel-drive model, at 17/22 mpg city/highway. Front-wheel-drive versions will save 2 mpg, getting 19/24 mpg city/highway. Premium gas is required.
The 2010 RDX is heading to dealerships now. A full price breakdown and more pictures are below.
Pricing
RDX: $32,520
RDX SH-AWD: $34,520
RDX with Technology Package: $35,620
RDX SH-AWD with Technology Package: $37,620
Destination: $810