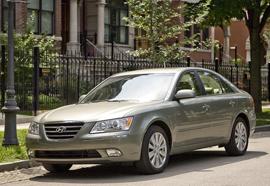 The government hasn't finished registering dealers for its Cash for Clunkers program yet, and rules for how funds will be distributed haven't been released to the public or dealers. Hyundai isn't waiting, however. The company is supplying cash funds to dealers now in advance of CARS going into effect. In fact, it already paid one car shopper last week for turning in a 1995 Ford Explorer while purchasing a new Hyundai Elantra Touring.
Hyundai is being aggressive with its latest incentives, as the company is one of the few to see sales success since the economic downturn. It's still offering its Assurance plan, and this month it launched a gas incentive good for $1.49-a-gallon gas for a year.
You can check out our up-to-date guide to Cash for Clunkers here, as well as a full list of eligible vehicles (by mpg) here.
Hyundai Expedites Benefits of Cash for Clunkers (AutoRemarketing.com)