Mazda Adding $500 Cash for Clunkers Bonus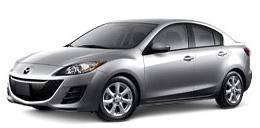 Is the government's $3,500-$4,500 Cash for Clunkers rebate not enough to get you to buy a new car? Well, we've already outlined 10 great cars to spend the federal funds on, but today Mazda is making sure it gets consideration, too. The company is adding a $500 cash incentive for those taking advantage of the legislation, and that's on top of all current incentives.
That means that on the all-new 2010 Mazda3, which only has financing offers — 3.9% for 60 months through July 31 — you'd get $500 cash back, dropping the MSRP of $15,045 to $10,045 if you qualify for the full Clunker rebate. The base Mazda3 with a manual transmission has a combined mileage of 28 mpg, so it would qualify for $4,500 under the program no matter what you're trading in. (Clunkers have to get 18 mpg combined or worse to qualify, and new cars have to get 10 mpg better to qualify for the full $4,500.) The automatic version gets 27 mpg combined, meaning your clunker would have to get 17 mpg to qualify for the full $4,500. These are the most fuel-efficient non-hybrid models in Mazda's lineup.
Other noteworthy deals can be had on the 2009 Mazda6. The redesigned sedan is sporty, with plentiful backseat room and a giant trunk. Plus, it has low financing of 2.9% for 60 months, plus $1,500 cash back. Add another $500, and that takes the $18,550 starting price to $13,050, assuming the $3,500 clunker rebate. Combined mileage for the four-cylinder Mazda6 is 24 mpg.
2010|Mazda|Mazda3
2009|Mazda|Mazda6